Ven Pongal - வெண் பொங்கல்
Share
Ven Pongal - வெண் பொங்கல்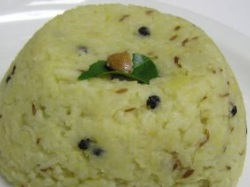 Ingredients
How to make Ven Pongal - வெண் பொங்கல்
» Rice 1 Cup
» Moong Dal 1/4 Cup
» Black Pepper Powder to taste
» Zera Powder 1 Tbsp
» Ginger Paste 1 Tsp
» Dry Dinger (Sukku) 1 Tbsp
» Heeng 1 Tsp
» Cashew for garnishing
» Margaring/Ghee 2 Tbsp
» Water 6 Cups
» Salt to taste
Method
for Ven Pongal - வெண் பொங்கல்
1. Wash rice and dal together and drain nicely.
2. In the Rice cooker heat 1 tbsp ghee.
3. Add rice and dal. Fry till the ghee coats the mixture.
4. Add the rest of the ingredients, except Cashews.
5. Add water. Cover and cook.
6. Keep testing the water level and stir frequently as it has a tendency to stick to the bottom.
7. When rice gets fully mashed garnish with cashews,
now Ven Pongal - வெண் பொங்கல் is ready
Pongal Recipes
Rava Pongal Recipe
,
Sakkari pongal /Sweet Pongal
Hits: 4285, Rating :

( 3 ) by 41 User(s).
RELATED RECIPES YOU MIGHT BE INTERESTED
POPULAR RECIPE TAGS