Gujarati Khaman Dhokla
Share
Gujarati Khaman Dhokla
Ingredients
1 cup rice
1 cup urad dal
1 cup yellow moong dal
3 cups sour buttermilk
2 green chillies crushed fine
1/4 tsp - ginger grated fine
1/2 tsp - soda bicarb
2 tbsp - oil
2-3 pinches red chilli powder
1/2 tbsp - coriander finely chopped
Salt To Taste
Method
Preparation: Gujarati Khaman Dhokla
* Mix the rice and dal, wash, drain and dry on a clean cloth for a few hours.
* The grain should be completely. Grind to a coarse flour in dry grinder or at the flour mill. This flour should be like very fine soji in texture.
* Store in airtight container and use as required. Will keep good upto 2 months. To make khaman, take 1 cup flour in a bowl.
* Add buttermilk, and mix well. Keep- aside for 4-5 hours. Dissolve sodabicarb in the oil. Add to batter.
* Mix all ingredients except red chilli powder and coriander. Pour immediately in a 6" diam. greased plate.
* Steam over water either in a cooker or steamer. Pierce knife, and check, should come out clean if done.
* Sprinkle the chilli powder and coriander, steam again for 2-3 minutes.
* Cut dhaman dhokla into squares or diamonds and serve hot with coconut chutney.
Hits: 1722, Rating :

( 3.2 ) by 19 User(s).
RELATED RECIPES YOU MIGHT BE INTERESTED
POPULAR RECIPE TAGS
RELATED CATEGORIES
Gujarati Recipes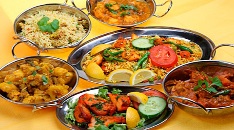 Vegetarian Recipes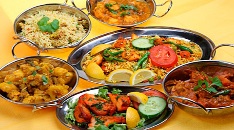 Non Vegetarian Recipes