Gujarati Methi Thepla
Share
Gujarati Methi Thepla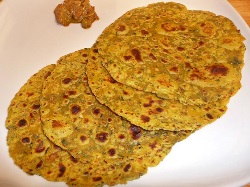 Ingredients
1 cup whole wheat flour (atta)
1/4 cup gram flour (basen)
1/8 teaspoon asafetida (hing)
1/2 teaspoon cumin seeds (jeera)
1/2 teaspoon turmeric (haldi)
1 teaspoon red chili flakes adjust to taste
1 1/4 teaspoon salt adjust to taste
1/4 cup dry fenugreek leaves (kastoori methi)
2 tablespoons oil
1/4 cup yogurt (dahi)
About 3 tablespoons of water as needed
Approximately 1/4 cup of oil for cooking
Method
Preparation of Methi Thepla
Mix all dry ingredients together in a bowl: flour, gram flour, asafetida, cumin seeds, turmeric, chili flakes, salt, and fenugreek leaves.
Add oil and yogurt to the flour mix and mix well. Add water as needed to make firm dough. Knead the dough for a minute on a lightly greased surface to make it smooth and pliable. Set the dough aside and cover it with a damp cloth. Let the dough rest
at least ten minutes.
Divide the dough into six to eight equal parts. Using your oiled palm, roll each one into a smooth ball and press flat.
Take one dough ball and press it lightly on both sides on a surface covered with dry flour. Using a rolling pin, roll the dough into a circle of five to six inches. If dough starts sticking, dust it with more flour. However, do not use any dry flour toward the end of the rolling, as it will make the thepla dry.
Heat a skillet over medium high heat. To test, sprinkle a couple of drops of water on the skillet. It should sizzle immediately.
Place the thepla in the skillet. As it cooks, the dough will change color and have a dryer look. Turn the thepla over using a spatula. You should see golden-brown spots on the semi-cooked side.
After few seconds, spread ½ teaspoon oil onto the thepla using a spatula. Turn the thepla over. Using your spatula, lightly press the entire surface of the thepla to help it cook all the way through. It may puff up in some areas.
Turn over the Thepla over again and press with the spatula, making sure it is golden-brown on both sides. Remove from heat.
Repeat with the remaining dough, untill they are all done.
Hits: 1247, Rating :

( 5 ) by 1 User(s).
RELATED RECIPES YOU MIGHT BE INTERESTED
POPULAR RECIPE TAGS
RELATED CATEGORIES
Gujarati Recipes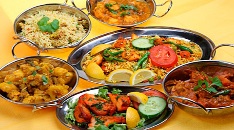 Vegetarian Recipes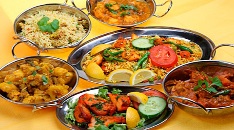 Non Vegetarian Recipes