Ghughra
Share
Ghughra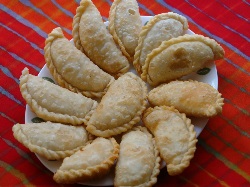 Ingredients
• For Dough
• 4 cups Plain Flour (maida)
• ½ tsp Asafoetida (optional)
• 4 tbsp Melted Ghee
• Salt (as per taste)
• Oil (for deep frying)
For Stuffing
• 3 tsp Sugar
• 2 tsp Sesame Seeds (til)
• 1 tsp Asafoetida (hing)
• 3 tsp Ginger-chilli Paste
• 4 tsp Chopped Coriander
• 1 tsp Cumin Seeds (jeera)
• 4 cups Green Peas
• 8 tbsp Grated Coconut
• 2 Lemon Juice
• 4 tbsp Oil
• Salt (as per taste)
Method
How to make Ghughra
• Take the flour and sieve it to remove unwanted particles from it. Add salt and asafoetida.
• Mix melted ghee and water in it and make firm dough. Now, make 20- 30 small balls out of it and keep it aside.
• Prepare stuffing by grinding the peas.
• Now, heat the oil in a saucepan and put asafetida & cumin seeds in it. Let the seeds crackle.
• Add mashed peas and stir, mixing in a few drops of water.
• Now, cover the pan with a lid and let the mixture cook for some time.
• When it is cooked, uncover it and let it dry for some time.
• Put the mixture on a plate and let it cool. Add sugar, sesame seeds, lemon juice, salt, ginger-chilli paste, coriander and grated coconut to it and mix well.
• Roll out the balls that you had prepared out of the dough into a 3 inch circle and put one spoon of the stuffing mixture in the centre of each circle.
• Tenderly fold the circle into semicircle and seal the edges using a drop of water.
• Decorate the edges of the semicircle using thumb and forefinger.
• Heat oil in pan and deep fry the stuffed balls in it, until they become brown in color.
• Serve hot with chutney.
Hits: 619, Rating :

( 3 ) by 35 User(s).
RELATED RECIPES YOU MIGHT BE INTERESTED
POPULAR RECIPE TAGS
RELATED CATEGORIES
Gujarati Recipes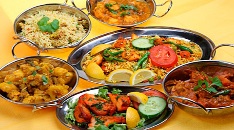 Vegetarian Recipes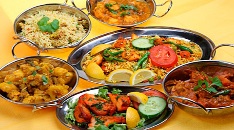 Non Vegetarian Recipes