Chicken Kofta With Paneer
Share
Chicken Kofta With Paneer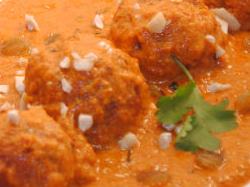 How to make Chicken Kofta With Paneer Recipe Punjabi Style
Ingredients
For the Koftas:
Boneless chicken – 450 gms (shimmed and cubed)
Crushed garlic – 1 tsp
Shredded ginger – 1 tsp
Ground coriander – 1 ½ tsp
Chili powder – 1 ½ tsp
Ground fenugreek – 1 ½ tsp
Turmeric powder – ¼ tsp
Salt to taste
Coriander leaves, chopped – 2 tbsp
Chopped green chili – 2
Water – 2 ½ cups
Oil for frying
For the paneer mixture
Onion sliced – 1 medium
Red (bell) pepper – 1 (seeded and cut into stripes)
Green (bell) pepper – 1 (seeded and cut into stripes)
Paneer – 175 gms
Corn – 175 gms
Fresh mint sprigs
Crushed dried red chili – 1 (optional)
Method
Chicken Kofta With Paneer
Put all the kofta ingredients apart from the oil, into a medium pan.
Bring to a boil slowly, over medium heat, and cook until all the liquid has evaporated
Remove from heat and leave to cool slightly. Put the mixture into a food processor or blender and process for 2 minutes, stopping once or twice to
loosen the mixture with a spoon.
Scrape the mixture into a large mixing
bowl, using a wooden spoon. Taking a
little of the mixture at a time, shape it into
small balls, using your hands. You should be able to make about 12 koftas.
Heat the oil in a deep pan over high heat.
Reduce the heat slightly and drop the koftas carefully into the oil. Move them around gently to ensure that they cook evenly.
When the koftas are lightly browned, remove them from oil with a slotted spoon and drain on kitchen paper. Set aside.
Heat the oil still remaining in the pan, and flash fry all the ingredients for the paneer mixture.
This should take about 3 minutes over high heat.
Divide the paneer mixture evenly into between 6 individual serving pans.
Add 2 koftas to each serving and garnish with mint sprigs.
Chicken Kofta With Paneer Recipe is ready now.
Hits: 1208, Rating :

( 5 ) by 1 User(s).
RELATED RECIPES YOU MIGHT BE INTERESTED
POPULAR RECIPE TAGS
RELATED CATEGORIES
Punjabi Recipes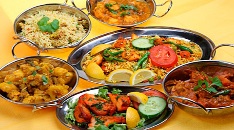 Vegetarian Recipes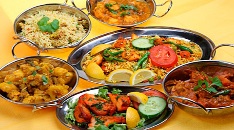 Non Vegetarian Recipes