ACHARI MUTTON RECIPE
Share
ACHARI MUTTON RECIPE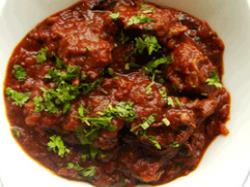 PUNJABI ACHARI MUTTON RECIPE
Ingredients
1/2 cup coriander leaves chopped
1/2 tsp fenugreek seeds
1 tsp fennel seeds
1/2 tsp cumin seeds
800 gms mutton800 gms.
1 tsp turmeric powder
8 red chillies whole
1 tsp red chilli powder
4 medium tomatoes
5 cloves
1 tsp onion seeds
7 tblsp mustard oil
2 tblsp ginger chopped
4 medium onions
salt to taste
1 tblsp garlic chopped
1 tsp mustard seeds
Method
Achari mutton
* Wash and cut the mutton into 11/2" cubes.
* Take off and cut the onions.
* Cut the tomatoes.
* Roast the whole spices separately and grind everything coarsely.
* Heat up oil in a thick-bottomed pot to smoking point, cool and again heat up the oil and stir fry the onions till brown.
* Mix in the cut ginger-garlic.
* Mix well.
* Mix in coarsely ground masala powder.
* Stir fry for half a minute, stirring all the time.
* Mix in mutton, stir fry on high flame heat up till mutton pieces are well browned.
* Mix in the tomatoes, turmeric powder, red chilli powder and salt and mix well.
* Stir fry till oil leaves the masala.
* Mix in sufficient quantity of water (about 21/2 cups), bring it to a boil and cover.
* Stir fry till the mutton is fully done.
* Adjust the flavor and serve hot decorated with coriander leaves.
Hits: 1571, Rating :

( 2.8 ) by 25 User(s).
RELATED RECIPES YOU MIGHT BE INTERESTED
POPULAR RECIPE TAGS
RELATED CATEGORIES
Punjabi Recipes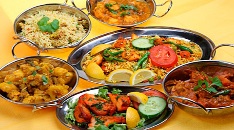 Vegetarian Recipes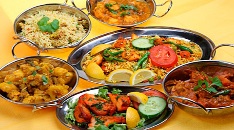 Non Vegetarian Recipes