Palada Pradhaman
Share
Palada Pradhaman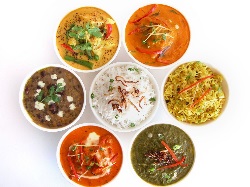 Ingredients
milk 4 cup
water 2 cup
condensed milk 1 cup
butter 2 tbsn
ada ¼ cup
sugar ½ cup
Method
Pu
t ada in boiling water (2-3 cups) and keep covered for 30 minutes.
Drain completely.
Heat butter in a pan and fry ada till ada turns pink. Keep aside.
Add milk and water to a thick bottom pan.
Bring to boil and add ada and reduce the heat to low
medium and cook, stirring
frequently,
till milk is reduced by 2/3rd and ada is done, about 1-1 ½ hours (Colour of
the pradaman will be a nice pink colour).
Add Condensed milk and keep cooking for 5-10 minutes more.
Add sugar and mix well and remove from flame. Serve warm.
Ada Pradhaman
Hits: 1305, Rating :

( 3.1 ) by 14 User(s).
RELATED RECIPES YOU MIGHT BE INTERESTED
POPULAR RECIPE TAGS