Mutton With Egg Masala
Share
Mutton With Egg Masala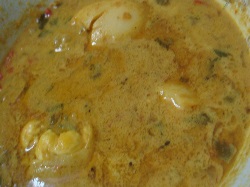 Ingredients
1/2 kg mutton
4 hard-boiled eggs
1 tbsp ghee
2 (100 g) onions, chopped fine
2 (150 g) tomatoes, chopped
salt to taste
tamarind pulp
lemon juice as required
a few sprigs mint leaves for garnish
grind for the masala paste
1/2 tsp (2 g) cumin seeds
1/2 tsp (2 g) turmeric powder
1/2 tsp (2 g) coriander seeds
Method
He
at ghee and fry the onions till golden brown.
Add tomatoes and fry well. Add the ground
masala paste and fry lightly.
Add mutton, salt and sufficient water and cook till done.
Add the green chutney, tamarind pulp and lemon juice. Stir well. Check the seasoning.
Add eggs and serve garnished with mint leaves.
6 peppercorns
2.5 cm cinnamon
2 cardamom
2 cloves
3 green chillies
2.5 cm ginger
6 flakes (12 g) garlic
Grind for the green chutney
1/2 bunch coriander leaves
1/4 bunch mint leaves
Hits: 1412, Rating :

( 2.9 ) by 13 User(s).
RELATED RECIPES YOU MIGHT BE INTERESTED
POPULAR RECIPE TAGS