Fish Curry with coconut milk
Share
Fish Curry with coconut milk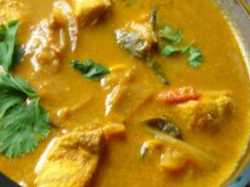 Fish Curry in Coconut Milk
Ingredients:
Fish diced - 2 cups
Finely chopped Onion/shallots - 1/2 cup
Fenugreek seeds (Uluva)- 1/4 tsp
Crushed garlic cloves - 3
Minced ginger - 1 tbsp
Green chillies chopped - 4
Chilly powder - 1 tsp
Turmeric powder - 1/4 tsp
Camboge(Kudam puli) - 1 piece
Curry leaves - 2 sprigs
Thick coconut milk - 1 and 1/2 cups
Salt - to taste
Oil - as needed
Method
Wash and soak kudam puli in 1/4 cup of warm water and keep it aside.
Heat oil in a pan and add fenugreek seeds and fry for few seconds.
Add in onion, garlic, ginger,green chillies and curry leaves.
Stir and cook until onion turns translucent.Add in chilly powder,turmeric powder and salt.
Stir for a while, and add fish pieces. Cover and cook for few minutes stirring in between.
Now add kudampuli along with the water. Stir and add coconut milk.
Bring it to a boil stirring occasionally. Simmer and cook for few more minutes.
Fish Curry is ready
Hits: 1879, Rating :

( 3.1 ) by 40 User(s).
RELATED RECIPES YOU MIGHT BE INTERESTED
POPULAR RECIPE TAGS