Kerala Kadala Curry
Share
Kerala Kadala Curry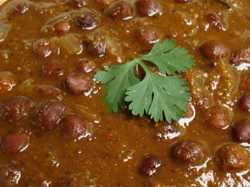 Kerala Style Kadala Curry or Kadala Masala Curry
Ingredients:
For the curry:
Black chickpeas – 1.5 cups (pre-soak for 4-6 hours or preferably overnight)
Onion – 1 large, chopped
Tomatoes – 2 medium, chopped
Red chilies – 4 or to taste
Coriander seeds – 1/4 cup
Coconut – 1/2 cup (grated/shredded/chopped into small bits)
Turmeric powder – 1 tsp
Salt to taste
For the tadka / tempering:
Oil – 1 tbsp
Curry leaves – few
Mustard seeds – 1 tsp
Method:
Drain the water from the soaked chickpeas.
Boil chickpeas in some water along with a little salt and turmeric powder, until it is cooked well – can be mashed by pressing hard between fingers but not broken or mushy to look at. Drain the water and keep aside.
Heat some oil in a pan, add the onions, some salt and red chilies and cook until the onions start browning.
Add the coriander seeds and cook for a couple of minutes until it starts browning and there's aroma from the seeds.
Add tomatoes and cook until it is cooked to a soft consistency and oil is oozing from the mixture.
Add the coconut and saute for a couple of minutes.
Turn off the heat and let it cool down a little bit.
Grind the mixture in a blender/ food processor (90% fine with some texture is good).
Mix together the boiled chickpeas and the ground masala, adding extra water as needed to bring to desired consistency.
Bring to a boil and cook for a few minutes on simmer so everything comes together nicely.
Turn off the heat.
Tadka: In another small pan, add some oil, and then add mustard leaves and allow to crackle. Add curry leaves and turn off the heat.
Add the tadka to the kadala curry and serve.
Hits: 1256, Rating :

( 5 ) by 1 User(s).
RELATED RECIPES YOU MIGHT BE INTERESTED
POPULAR RECIPE TAGS