Couscous with Vegetables
Share
Couscous with Vegetables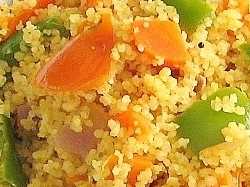 Ingredients
Whole Wheat Couscous – 1 cup (Instant Variety)
Diced Onions – 1 small
Diced Tomatoes – 1 small
Slit Green Chillies – 2 (Alter according to your spice tolerance)
Diced Carrots – 1/2 cup
Diced Bell Peppers – 1/2 cup
Finely Chopped Cilantro (Malliyella) – A few
Ginger Garlic paste – 2 tsp
Turmeric Powder – 1/4 tsp
Red Chilly Powder – 1/2 tsp (Alter according to your spice tolerance)
Oil – 2 tbsp
Mustard Seeds – 1/4 tsp
Salt – to taste
Water – as needed
Method
Couscous and Vegetables Preparation Method
Cook couscous according to the instructions on the packet. For 1 cup of Couscous, I used 1 and 1/4 cups of water. Bring lightly salted water to a boil in a saucepan. Add couscous, stirring quickly. Cover with a lid and remove from heat. Let it sit for 5 minutes and then fluff with a fork.
Heat 2 tbsp oil in a non stick pan and splutter mustard seeds.
Saute onions until translucent.
Add tomatoes and slit green chillies along with salt and continue sauteing until the tomatoes are cooked.
Reduce heat and add ginger-garlic paste. Saute for 2 minutes.
Throw in the carrots and stir fry for a few minutes.
Add the bell peppers and cilantro leaves. Continue sauteing until the vegetables are cooked but crispy.
Reduce heat and add turmeric powder and chilly powder. Stir fry for a minute.
Add the couscous and toss everything together and remove from stove top.
Hits: 1108, Rating :

( 5 ) by 1 User(s).
RELATED RECIPES YOU MIGHT BE INTERESTED
POPULAR RECIPE TAGS