Ghee Rice - Neychoru
Share
Ghee Rice - Neychoru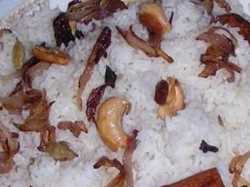 How to make Ghee Rice (Kerala Rice Recipe)
Ingredients
Malabar / Kerala Style Ghee Rice
For Cooking the Rice
Long grain Basmati rice – 2 cups
Ghee (Clarified butter) – 2 tbsp
Thinly Sliced Onions – 1 medium
Cinnamon (Patta) – 2″ piece
Cloves (Grambu) – 4
Cardamom (Elakka) – 2
Fennel Seeds (Perum Jeerakam) – 1/2 tsp
Star Anise (Thakkolam) – 1
Bay leaves (Karuva Ela) – 2
Water – 3.5 to 4 cups (depending on the Basmathi Rice)
Salt – to taste
For Seasoning
Ghee (Clarified butter) – 2 tbsp
Cashews – 1/2 cup
Raisins – 1/4 cup
Crispy Fried Red Onions or Shallots (Store Bought) – 1/2 cup (Alternatively, you can fry thinly sliced onions at home.)
Method
Ghee Rice Preparation Method
Soak Basmathi rice for 15 minutes to half an hour. Wash and drain the rice and keep aside.
Heat 2 tbsp ghee in a deep pan throw in fennel seeds, cinnamon, bay leaves, cardamom, cloves and star anise.
Saute for 2-3 minutes till fragrant.
Add onions and saute until translucent.
Add the drained rice to the pan and stir fry for 5-7 minutes until the rice begins to change color.
Add water to the pan along with salt and mix well. Bring it to a boil.
Reduce heat to medium low and cover the pan with a tight lid. Cook for around 10 minutes until the rice is cooked and all water has been absorbed.
Switch off the stove and keep the rice covered for another 8 -10 minutes.
Meanwhile, heat 2 tbsp ghee in another frying pan and add cashews and raisins. Saute until cashews are lightly brown and the raisins become plump. Drain and keep aside.
Add fried shallots to the same pan and stir fry for 2-3 minutes. (If you are not using store bought Fried Shallots,
then add more ghee to the pan and fry thinly sliced onions until brown.)
Add half of the fried cashews, raisins and shallots to the cooked rice and mix everything gently.
Garnish the Rice with the remaining fried cashews, raisins and onions.
Hits: 1509, Rating :

( 5 ) by 1 User(s).
RELATED RECIPES YOU MIGHT BE INTERESTED
POPULAR RECIPE TAGS