Egg Mushroom Biryani
Share
Egg Mushroom Biryani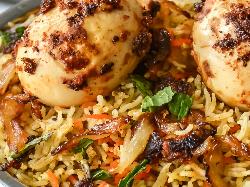 How to make Egg Mushroom Biryani
Ingredients
Basmati Rice : 4 cups(wash and soak for 25 Min's)
Eggs : 4(boiled)
Mushrooms : 2 cups
mints leaves : 5 spoons
coriander eaves: 4 spoons
green chilly : 4
onion : 4 medium
tomato : 1 medium
ghee : 5 spoons
oil : 4 spoons
water : 6 cups
salt : to taste
chilly powder : 1 spoon
garam Masala : 2 spoons(powder of 3 cardamom,3 cloves and 3 pieces in cinnamon(each 1 inch),1/4 spoon jeera seeds and 1/4 spoon coriander seeds)
lemon : 1 medium
curd : 1/2 cup
saffron : 1/4 spoon(soak in 1 spoon of warm milk)
turmeric powder : 1/4 spoon
whole spices : 2 cinnamon sticks,2 cardamom and 2 cloves)
bay leaf : 2
ginger-garlic : 1 spoon
paste
cashew nuts : 8 to 10
Method
Wash n soak 4 cups of rice in 5 cups of water
take a pan n put 3 spoons of oil,add mushrooms,mint leaves(4 spoons),ginger-garlic paste, green chilly slits,salt n turmeric powder,fry them till mushrooms are half cooked(approx 5Min's)
Now add garam masala powder,chilly powder,tomato pieces and curd .cook for 2 Min's and remove from stove and add boiled eggs and lemon juice
keep it a side....
take a pan n put 1 spoon of ghee,add whole spices along with bay leaves...once they start leaving aroma add rice along with 5 cups of water and salt...
cook in medium flame till water evaporates(don't put lid)
cut onions into circles,n fry them in three spoons of ghee..once onions become crispy add cashew nuts and n remove from flame
Take a thick bottomed vessel and spread one spoon of ghee,spread 1/3 part of rice,on top spread half of mushroom-egg curry,
again do the same with half part of remaining rice and remaining mushroom-egg curry.
finally spread remaining rice, on top of it put saffron milk,coriander leaves and remaining mint leaves
sprinkle 1 glass of water..spread fried onion and cashew nuts,
close the vessel with aluminum foil and on top put a flat lid, on the lid put some heavy wait
cook this in low flame for 40 Min's
Egg Mushroom Biryani is ready to serve
Mix it well and serve with onion-cucumber raita.
Hits: 4673, Rating :

( 5 ) by 1 User(s).
RELATED RECIPES YOU MIGHT BE INTERESTED
POPULAR RECIPE TAGS