Dindigul Mutton Biryani
Share
Dindigul Mutton Biryani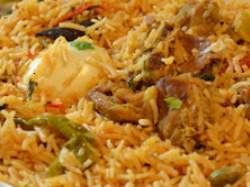 Ingredients
1/2 kg - mutton
2 cups - basmati rice
5 to 6 tbsp - oil
1 tbsp - ghee
2 - onions
2 - tomatoes
Ginger, a small piece
4 to 5 cloves - garlic
3 to 4 - green chillies
1 full cup - coriander and mint leaves
1 - bay leaf
1/2 tsp - cumin
2 - cinnamon
2 to 4 - cloves
2 - cardamom
1/2 tsp - turmeric powder
1&1/2 tsp - red chilly powder
1&1/2 tsp - garam masala powder
1 tsp - castor oil
1/4 cup - yoghurt
Salt to taste
Method
Clean and wash the mutton pieces well.
In a pressure pan, boil the mutton pieces with half tsp salt, half tsp turmeric powder, 1 tsp castor oil & half tsp red chilly powder.
Cook it up to 4 to 5 whistles.
Now cooked mutton is ready.
Drain the stock from the mutton and reserve. (we can have this as soup by adding pepper powder as required)
To prepare biryani:
Wash and soak the basmati rice or seeraga samba rice in water for 5 to 10 mins.
Drain the water and reserve.
Chop onion, tomato, ginger, garlic, green chilly, coriander and mint leaves finely and keep ready.
In a mixer, add garlic, ginger, green chilly and mint leaves.
Grind to coarse paste without adding water.
Now add chopped onion and grind for 1 more minute.
Transfer this coarse paste to a cup and keep ready.
Now heat a large pressure pan.
Add 5 to 6 tbsp of oil and 1 tbsp ghee.
Heat it and add bay leaf, cumin, cinnamon, cardamom & cloves.
Wait to splutter.
Add coriander leaves and saute for a few seconds.
Add the ground paste and fry on a low-medium flame until the raw smell disappears.
Add finely chopped tomatoes and salt.
Fry on a low flame for 6 to 8 mins.
Once the oil separates from the masala, add 1 tsp red chilly pwd, 1&1/2 tsp garam masala powder and fry for 2 more mins.
Add yoghurt and combine.
Now add boiled mutton pieces and half cup of mutton stock.
Allow to boil for 3 to 4 mins.
Now add the basmati rice and combine gently.
Add 3&1/2 cups of water.
Taste and adjust salt and seasonings.
Close the cooker lid and pressure cook the biryani on a high flame for one whistle and simmer for 5 to 7 mins.
Open the lid, after full steam goes away.
Fluff the biryani gently with ladle.
Sprinkle freshly chopped coriander leaves.
Now tasty Dindigul Mutton Biryani is ready.
Hits: 2287, Rating :

( 5 ) by 1 User(s).
RELATED RECIPES YOU MIGHT BE INTERESTED
POPULAR RECIPE TAGS