Hyderabad Mutton Biryani
Share
Hyderabad Mutton Biryani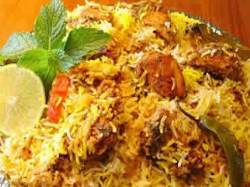 INGREDIENTS
Basmati Rice - 1 kg
Mutton (Goat or Lamb) cut into 1 inch cubes - 1 kg
Cardamom - 3 count
Cinnamon - 1/2 inch stick
Cumin seed - 10 grams
Cloves - 10 grams
Ginger - 40 grams
Garlic - 20 grams
Green Chilies - 100 grams
Fried Onion - 50 grams
Coriander Leaves - 1 bunch
Pudina (mint leaves) - 1 bunch
Lemon - 2
Curd - 1/4 cup
Ghee - 1/4 kg
Method
Wash mutton and take it in a vessel.
Grind green chilies, ginger, garlic, spices, fried onion, and mix them all, then add this mixture to the meat.
Then add curd to it, mix the stuff thoroughly. Leave the material for half an hour.
Take 2 liters of water in a vessel and put it on the stove.
When water boils well put the rice in the vessel. Take out the semi-cooked rice and spread it on the meat and spices mixture as a layer. Take some more rice and spread as second layer. Finally, spread the fully cooked rice.
Prepare a mixture of one cup of boiled water and 1/4 kg ghee and spill it on the rice.
Now put a plate on the vessel and seal the edges with dough. Put the vessel on the stove, cook for 15 minutes on medium flame.
Then turn off the stove. Leave the stuff for 15 minutes.
Hyderabad mutton biryani is ready to serve.
Hits: 1639, Rating :

( 5 ) by 1 User(s).
RELATED RECIPES YOU MIGHT BE INTERESTED
POPULAR RECIPE TAGS