Ambur Mutton Biryani
Share
Ambur Mutton Biryani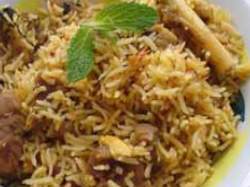 Ingredients
ஆம்பூர் மட்டன் பிரியாணி
Mutton : 1/2 kg (500gms)
Basmati Rice : 21/2 cups (You can use Zeeraga samba rice instead of basmati )
Oil : 1/4 cup
Onion : 1 (large)
Tomatoes : 2
Ginger and Garlic Paste : 1tbsp
Mint and Coriander Leaves : 1 cup (chopped)
Red Chili Powder : 1/2 tbsp
Coriander powder : 1/2 tbsp
Turmeric powder : 1/4 tsp
Ghee : 1/4 cup
Salt to taste
For marinade
Coriander powder ; 1/2 tbsp
Red chili powder : 1/2 tbsp
Garam masala Powder : 1 tbsp
Yogurt : 1/2 cup
Turmeric powder : 1/4 tsp
Ginger and Garlic paste : 1/2 tbsp
lemon Juice : 2 tsp
Whole spices
Cloves : 3
Cardamom : 3
Bay Leaves: 2
Cinnamon stick : 1 "
Star Aniseed : 2
To Grind
Cashews : 10
Fennel seeds : 1/2 tsp
Cumin seeds : 1/4 tsp
Green Chili : 2
Garlic : 3
Method
Marinate the mutton with the ingredients listed under marinade for about an hour or atleast 30 minutes.
After an hour pressure cooker the marinated mutton with 4 cups of water. Pressure cook for 3 whistles and keep it aside.
Wash and soak the rice for 30 minutes.
Grind the cashews, fennel seeds, cumin, green chili and garlic into smooth paste and keep it aside.
Now heat Ghee and oil in a wide bottomed pan. Now add all the whole spices into it.
Fry them in low heat until a nice aroma comes out of it. After that add the sliced onions into it.
Fry them till it becomes translucent and add 1/2 tbsp of ginger & garlic paste. Saute it for 2-3 minutes till the raw smell goes off.
After that add red chili 1/2 tbsp of red chili powder and coriander powder. Mix it all together and add turmeric powder.
Now add the chopped tomatoes with required salt and fry them for 3-4 minutes.
Finally add the mint leaves & coriander leaves, mix it all together.
Now add the pressure cooked mutton and mix them well finally add the ground paste and saute it for another 5 minutes in low flame.
Once the gravy is done transfer it into the electric rice cooker vessel.
Fry the soaked basmati rice in the same gravy pan for 2 minutes with 2 tbsp of ghee.
After that transfer the rice from the above step in to electric rice cooker pan with that gravy (step 12). Mix it all together sprinkle some coriander leaves and close the lid.
Once it's done serve it hot with raitha, mutton curry or any of your favorite side dishes.
Hits: 3158, Rating :

( 5 ) by 1 User(s).
RELATED RECIPES YOU MIGHT BE INTERESTED
POPULAR RECIPE TAGS