Cheesy Brown Rice Casserole
Share
Cheesy Brown Rice Casserole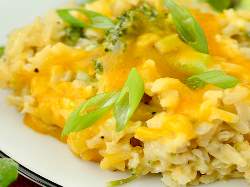 Ingredients
2 cups cooked Brown rice
3 chopped Green onions
1/4 cup skimmed Milk
1/2 cup low-fat creamy Cottage cheese
1 tbsp grated Parmesan cheese
3/4 tsp Dill weed
1/4 tsp Dijon mustard
Method
1.In a bowl, combine the cooked rice, green onions, cottage cheese,
dill weed, parmesan cheese, milk, and mustard.
2.Stir gently the ingredients until well blended.
3.Pour the mixture into a casserole dish sprayed with nonstick cooking spray.
4.Bake in a 350 degree F oven for 1o-15 minutes until well cooked.
Hits: 1047, Rating :

( 2.8 ) by 20 User(s).
RELATED RECIPES YOU MIGHT BE INTERESTED
POPULAR RECIPE TAGS