Tasty Pachari Dosa
Share
Tasty Pachari Dosa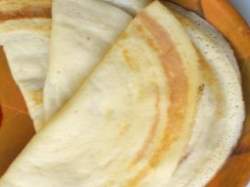 Ingredients
Pachari - 1 cups
Cooked rice - 1/4 cup
Grated coconut - 1/2 tbsp
Small onions- 4
Powdered Cumin seeds - 1/2 tsp
Salt - to taste
Oil- 1-2 tsp
Method
1.Soak the pachari with 2 cups of water for 2-3 hours and drain.
2.Grind the pachari into paste.
3.Add the cooked rice, small onions, powdered cumin seeds and coconut the batter, mix.
4.Grind again the ingredients into nice paste.
6.Heat a nonstick pan and grease oil.
7.Pour 1 spoonful of batter and make into thin dosas.
8.Cook for 1-2 minutes until turns to light brown color.
9.Serve hot with onion chutney.
Hits: 3084, Rating :

( 2.9 ) by 19 User(s).
RELATED RECIPES YOU MIGHT BE INTERESTED
POPULAR RECIPE TAGS