VELLA PAYASAM
Share
VELLA PAYASAM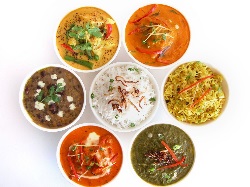 Ingredients:
1/4th cup rice
1/4th cup jagery.
4 tsp ghee.
1 tsp ghee for garnishing.
1tsp cut cashews, raisins and badams.
Procedure:
1. Cook the rice and when the rice is ready take it in a pan and add jagery to it.
2. When the jagrey completely dissolves in the rice add ghee to it.
3. Take a pan heat it with ghee in it adds some cashews, raisins, and badam to it and when the cahsewnut will be slightly brownish then add it.
4. Your vella payasam is ready and serve it when cold.
Hits: 710, Rating :

( 3.4 ) by 18 User(s).
RELATED RECIPES YOU MIGHT BE INTERESTED
POPULAR RECIPE TAGS