Milagu kuzhambu
Share
Milagu kuzhambu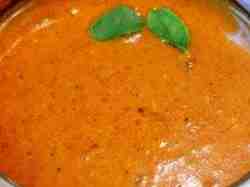 How to Make Milagu kuzhambu Recipe
Pepper kuzhambhu
INGREDIENTS
TAMARIND EXTRACT 2 1/2 CUPS
TOORDHAL 1 TBLSP
PEPPER 1/2 TSP
CURRY LEAVES FEW
MUSTARD SEEDS 1/2 TSP
TURMERIC POWDER 1/4 TSP
JAGGERY 1/4 TSP
SESAME OIL 1 TBLSP
ASAFOETIDA 1/4 TSP
GARLIC ONE HAND FULL(optional)
SALT AS NEEDED
Method
Soak lemon sized tamarind in hot water and extract the pulp using 2 and half cups of water.
Peel the skin of the garlic(if using) and keep it aside.
In a kadai, add a few drops of oil and add the toordhal and pepper.
Saute till the dhal turns golden brown.
Allow it to cool
Grind in the mixie by adding some curry leaves to it.
Grind it into a smooth paste by adding a little water to it.
In the kadai, add the sesame oil and add the mustard seeds.
When it splutters, add the garlic(if using) and saute for few minutes.
Now add the tamarind extract and the ground paste to it.
Add jagerry, turmeric powder , asafoetida and salt to it.
Allow it to boil till u get the right kuzhambhu consistency.
Finally add some curry leaves and add a few drops of sesame oil on the top.
Milagu kuzhambhu is ready, Enjoy with hot rice and roasted papad.
Hits: 1339, Rating :

( 5 ) by 1 User(s).
RELATED RECIPES YOU MIGHT BE INTERESTED
POPULAR RECIPE TAGS