Mixed Vegetable Sambar
Share
Mixed Vegetable Sambar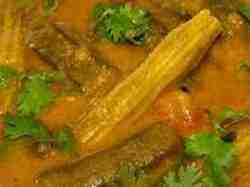 How to make Mixed Vegetable Sambar
south indian sambar recipe
Ingredients
¾ cup tur dal (can use a mix of moong, tur and masoor)
Tamarind as needed or 1 to 1 ½ tsp tamarind paste (adjust)
Coriander leaves few with tender stalks
salt as needed
12 to 15 shallots
1 to 2 drumsticks
2 to 3 Ladies finger
Few cubes red pumpkin
1 green chili slit (optional)
1 large or 2 medium tomatoes
to roast and powder or use any read made powder
1 tbsp. coriander seeds
1 tbsp. Chana dal
1 tsp urad dal
¼ tsp cumin
¼ tsp methi seeds (can use ½ tsp if you like)
4 to 5 red chilies (kashmiri/byadgi)
2 tsp ghee or oil
1 sprig curry leaves
½ tsp cumin
½ tsp mustard
Pinch of methi seeds
Generous Pinch of hing/asafoetida
Red chili broken
Method
Wash dal several times and pressure cook with 2 cups water for 2 to 4 whistles depending on the brand of cooker. The dal needs to be cooked till smooth. It can even be cooked in a pot.
While the dal cooks, dry roast the ingredients under "to roast and powder" in the order mentioned here. coriander seeds till they smell good, dals to golden, and then red chilies to crisp and methi seeds till they begin to smell good. Cool these and powder.
Wash and chop the veggies.
Add 5 cups of water to a pot, add the chopped veggies and cook until soft.
When the water turns slightly hot, transfer about ¼ cup hot water with a ladle to a separate bowl and soak tamarind in it.
When the pressure goes off, mash the dal to smooth. The dal needs to be very smooth otherwise it doesn't taste good.
When the vegetables are completely cooked, add sambhar powder and salt. Cook for 3 to 5 minutes.
Pour the tamarind pulp, filtered if you desire.
Add smooth dal, mix well to blend the dal with water. Bring it to a boil. Check if there is enough salt and sourness. If needed add more. Add coriander leaves and stir.
Meanwhile, heat another pan with oil or ghee.
Add mustard cumin and methi. When they begin to sizzle, add curry leaves, broken red chili. When the leaves turn crisp, off the heat add hing.
Pour this seasoning to the sambar. Stir well. Simmer for 2 to 3 minutes for the sambar to become flavorful.
Now Mixed Vegetable Sambar is ready
Hits: 1509, Rating :

( 5 ) by 1 User(s).
RELATED RECIPES YOU MIGHT BE INTERESTED
POPULAR RECIPE TAGS