Cabbage Rice
Share
Cabbage Rice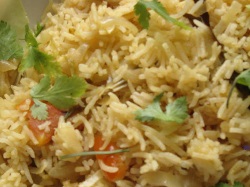 Ingredients
2 cups cooked rice
1/2 cup finely cut cabbage
Salt to taste
2 tsp oil
1/2 tsp mustard seeds
1/2 tsp bengalgram dal
1/2 tsp blackgram dal
1/2 tsp turmeric powder
Bit of asafoetida
1 tsp vangi bath powder
Few roasted cashews
Finely cut coriander leaves
Method
In a microwave safe bowl, add the oil, mustard seeds, bengalgram dal and blackgram dal. Micro high for a minute. Now add the cabbage, mix well and micro high for a minute. Add a little water to it and cook covered on high for 3 to 4 minutes. Check if the cabbage is cooked well or else cook for another minute or so.
Now add turmeric powder, salt and vangi bath powder and micro high for 1 minute. See to it that it becomes dry.
Now add the cooked rice, roasted cashews, coriander leaves and mix well. This too like coconut rice can be carried for lunch or travel.
Hits: 967, Rating :

( 3.1 ) by 27 User(s).
RELATED RECIPES YOU MIGHT BE INTERESTED
POPULAR RECIPE TAGS