Chettinad Idli
Share
Chettinad Idli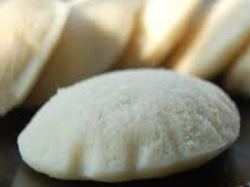 Ingredients
• 4 cup Boiled rice
• 1 cup Urad dal
• Salt, to taste
Method
How to make Chettinad Idli:
• Soak rice and urad dal separately for three hours and then grind them separately.
• Take a bowl and mix both the ingredients together to make a smooth batter.
• Now, add salt to it and mix again.
• Keep the batter for fermenting for 12 hours.
• Make idli in the idli cooker and cook it for 10 to 15 minutes on low flame.
• 5.Keep the batters aside for 12 hours to get fermented.
• Serve with coconut chutney and sambhar.
Hits: 2260, Rating :

( 3 ) by 27 User(s).
Tags
Chettinad idli recipe, chettinad samayal recipes, south indian idli recipe,
Tamil idli recipe,chettinad recipes,indian idli recipes,indian recipes
RELATED RECIPES YOU MIGHT BE INTERESTED
POPULAR RECIPE TAGS