Chilli Chicken
Share
Chilli Chicken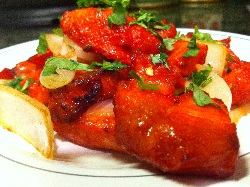 Ingredients
For Marinating
Chicken - 2 lb (boneless thighs)
Eggs - 2
Soy Sauce - 2 tsp
Chili garlic sauce (Chinese) - 2 tsp
Chili sauce - 2 tsp
Ginger & Garlic paste - 1 tsp
Maida - 2 tbls
Green chilies - 2 (chopped )
Salt
For Gravy
Onion - 1 (1 pieces)
Capsicum - 1 (1 pieces)
Spring onion - 1 bunch (chopped)
Soy sauce - 2 tbls
Hot & sweet sauce - 2 tsp
Chili sauce - 2 tsp
Chili garlic sauce (chinese) 2 tsp
Aginomotto - 1 pinch(optional)
Green chilies - 10 (split)
Cooking Procedure
1. Clean and cut chicken in to 1pieces.
2. Add all the ingredients needed for marinating.
3. Refrigerate it for at least 3 hours, you can keep up to 24 hours.
4. Heat oil in a pan ,deep fry split green chilies and keep aside.
5. Then deep fry the marinated chicken in the same oil and keep aside.
6. Take 1 tbls of oil in a separate pan and put capsicum and onion pieces with little salt and stir fry for 1 min.
7. Then add all gravy ingredients in the pan , mix well and put off the stove.
8. Now add fried chicken pieces to the gravy and mix well.
9. Garnish with spring onion and fried green chilies.
Hits: 1123, Rating :

( 3.1 ) by 16 User(s).
RELATED RECIPES YOU MIGHT BE INTERESTED
POPULAR RECIPE TAGS
RELATED CATEGORIES
Andhra Recipes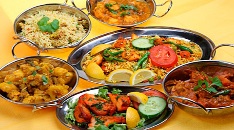 Vegetarian Recipes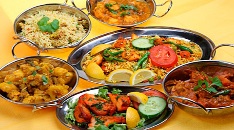 Non Vegetarian Recipes