Chicken Tikka Masala
Share
Chicken Tikka Masala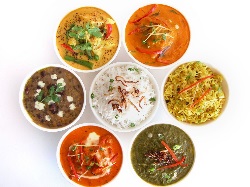 Ingredients
For Marinating
Chicken - 1 lb (boneless thighs)
Ginger & Garlic paste -1 tsp
Yogurt 2 tbls
Red chilli powder - ¼ tsp
Coriander powder - ¼ tsp
Butter or oil - 1 tbls
Salt
For Gravy
Onion - 1 (medium)
Green chilli - 1
Ginger & Garlic paste -1 tsp
Tomato puree - 2 tbls
Turmeric powder - 1 pinch
Garam masala powder - ¼ tsp
Red chili powder - ¼ tsp
Half & Half - 1 pint
Heavy cream - ½ pint
Oil - 1 tbls
Salt
kasturi Methi (dry fenugreek leaves) - 1 tsp (for garnish)
Cooking Procedure
1. Wash and cut chicken pieces into 2 inch cubes.
2. Add all the ingredients needed for marinating and then refrigerate for 2 hours.
3. Arrange the chicken in a baking tray and place it in a pre-heated oven to 350 degrees
4. After 20 mins flip the chicken to the other side and cook until lightly brown and dry.
5. Make onion and green chili in to fine paste.
6. Take 1 tbls of oil in a pan, add onion paste, ginger & garlic paste, turmeric, red chili powder and coriander powder, sauté till oil separates.
7. Then add tomato puree and sauté again oil comes out.
8. Now add half and half in to the masala and boil.
9. Once it starts boiling add heavy cream and baked chicken pieces, garam masala powder and salt.
10. Cover the pan and cook in a low flame for 5 mins.
11. Garnish with kasturi methi.
Hits: 1425, Rating :

( 3.1 ) by 16 User(s).
RELATED RECIPES YOU MIGHT BE INTERESTED
POPULAR RECIPE TAGS
RELATED CATEGORIES
Andhra Recipes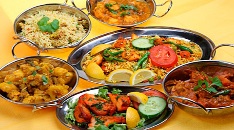 Vegetarian Recipes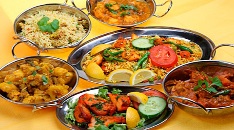 Non Vegetarian Recipes