Channa dal Brinjal curry
Share
Channa dal Brinjal curry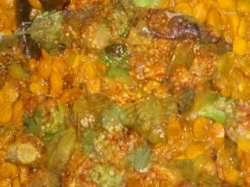 Ingredients
Channadal - 1 cup
Brinjals - 4 to 5 or 1 lb
Onions - 2 small
Green chilies - 4 to 5
Tomatoes - 2 small
Turmeric
Chilly powder
Garam masala - 1/2 tb
Ginger garlic - 1/4 tb
Oil - 4 to 5tb
Coriander leaves
Water
Method




Chenna dal brinjal curry cooking Procedure

1. Cut brinjals into small pieces and soak channadal in some water for atleast 10mins.

2. Chopp onions and cut green chillies and cut tomatoes and keep aside.

3. Take a kadai and put it on a medium range flame and put oil into the kadai and
add the chopped onions and green chillies and fry it .

4. After some time when the onions turn light brown add tomatoes and fry it until
the liquid comes out from the tomatoes and add brinjals into the kadai and fry for sometime and
later add the channa dal to it and fry for sometime.

5. Add chilly powder , ginger garlic ,garam masala, turmeric and salt to it and fry and
after frying add water to it and let it be boiled until very little quantity of water stays and
turn off the flame and add coriander leaves to it and mix well.

6. Serve hot with white rice and also you can serve with paratas or any other dishes.
it was really tasty and you will definately enjoy the taste.
Hits: 1115, Rating :

( 3.1 ) by 17 User(s).
RELATED RECIPES YOU MIGHT BE INTERESTED
POPULAR RECIPE TAGS
RELATED CATEGORIES
Andhra Recipes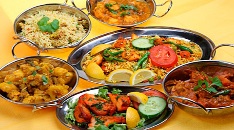 Vegetarian Recipes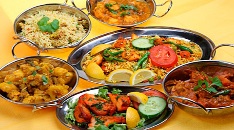 Non Vegetarian Recipes