Aloo Curry
Share
Aloo Curry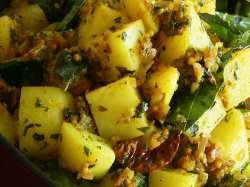 Ingredients
1/4kg Aloo
2 Onions chopped
4 Green Chillies
1 Tea spoon corriander seeds
6 cloves of garlic oil, channa dal, urad dal, mustard seeds, cumin and curry leaves for seasoning
Little turmeric salt to taste
Fresh corriander for garnishing.
Method
Aloo Curry Cooking Procedure
1. Boil potatoes, remove skin and cut into pieces of 1 inch size and keep aside.
2. Grind garlic,greenchillies and corriander seeds together without water.
3. Heat oil in a pan and add channadal,urad dal,cumin seeds,mustard seeds,and curry leaves.
4. After it crackles add onion pieces and the ground mixture, turmeric powder and let it fry for 3 mins.
5. Now add cut aloo pieces and salt and mix well.
6. Let it fry for few min covering with a lid and then remove from flame and garnish with fresh corriander leaves.
Additional Information
This curry can be taken with rice or with dosa(for masala dosa).
Hits: 583, Rating :

( 3.2 ) by 19 User(s).
RELATED RECIPES YOU MIGHT BE INTERESTED
POPULAR RECIPE TAGS
RELATED CATEGORIES
Andhra Recipes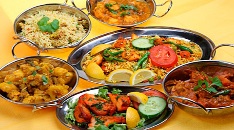 Vegetarian Recipes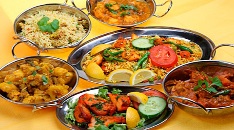 Non Vegetarian Recipes