Akukura (Green Leaves) Pappu
Share
Akukura (Green Leaves) Pappu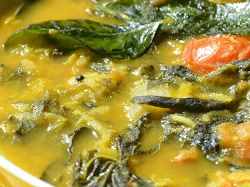 Green leaves - Akukura Pappu
Ingredients
* Kandi bedalu (Bengal gram daal) - 100 grms
* Any Green leaves (like Palak, Spinach, Methi etc) - 1/2 bundle
* Green chillies - 6 or 7
* Tomato - 2
* Tamarind - 1 inch little one
* Dry red chillies - 2
* Garlic - 2/3 flakes
* Mustered seeds - 1/2 tbl spoon
* Jeera - 1/2 tbl spoon
* Onion - 1
* Asafoetida - 1 pinch
Method
Akukura Pappu Preparation
1. Wash daal and green leaves twice neatly.
2. Add green leaves, tomato, green chillies, half of the onion, and one glass of water to daal.
3. Put in pressure cooker for 3 vizzles.
4. After the pressure has come down, add salt, smash the daal, add tamarind juice, season it and keep it on flame for 5 minutes.
For seasoning
1. Take one tea spoon of oil in kadai and heat.
2. Add asafetida, mustered seeds, jeera, dry red chillies, garlic, and onion. Fry till golden brown color.
3. Add the smashed daal to the seasoning.
Tips
* You can use unripe tomato also for daal.
Hits: 4525, Rating :

( 3.1 ) by 56 User(s).
RELATED RECIPES YOU MIGHT BE INTERESTED
POPULAR RECIPE TAGS
RELATED CATEGORIES
Andhra Recipes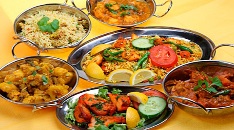 Vegetarian Recipes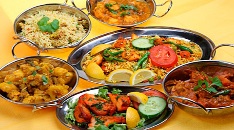 Non Vegetarian Recipes