Onion dosa
Share
Onion dosa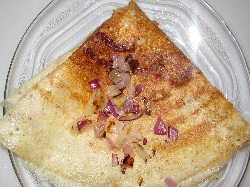 How to Make Onion dosa Recipe
Ingredients:
• 2 cups Rice
• 1 cup Urad Dal
• 1 tbsp Cooking Oil
• ¼ tsp Jeera Powder
• 2 large Onions (chopped)
• 5 Green Chillies (chopped)
• 4 twigs Coriander Leaves (chopped)
Method
Onion Dosa Recipe.
For making Onion dosai the first step is making onion dosa batter – clean rice & Urad dal ,clean it with water – Soak urad dal & rice separately for an over night .
Grind the soaked rice & Urad to make it a fine paste (for idli coarse batter is required ) ,add salt to the paste & mix well allow it to ferment for 3 hours .
In that mean time we will chop the onions ,chillies & coriander leaves – mix all these together with jeera powder (cumin powder ) in bowl & keep aside to add this mixture to the onion dosa in the final stage .
Now we will start making onion dosa – Heat a dosa pan ,
apply little oil to the heated pan and then pour a table spoon full of batter onto the pan & immediately spread it evenly in a circular shape ,add little oil onto the dosa & spread a 2 tea spoon of onion-chilli-coriander-cumin mixture on the uncooked side and wait for few seconds ,flip the side & cook the other side too ,remove the dosa from the pan ,repeat the same procedure to cook more onion dosas .
Hits: 1713, Rating :

( 3.3 ) by 13 User(s).
RELATED RECIPES YOU MIGHT BE INTERESTED
POPULAR RECIPE TAGS
RELATED CATEGORIES
Southern Indian Cuisine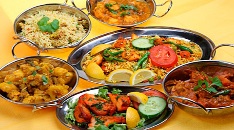 South Indian Veg Recipes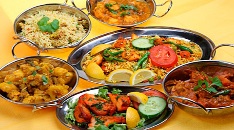 South Indian Non Veg Recipes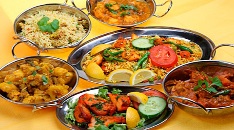 South Indian tiffin Recipes