Neer Dosa
Share
Neer Dosa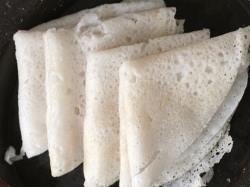 How to make neer dosai recipe
Ingredients
1 cup regular rice,
1.5 to 2 cups water or add as required,
salt as required,
oil for making dosas
1 Cup = 250Ml/GM
Method
Neer dosai recipe
1. Soak 1 cup rice in enough water for 4 to 5 hours or overnight
2. Drain the soaked rice and add them in a wet grinder jar.
3. Aadd water enough for grinding the rice. if you add all the water then you won't be able
to grind the rice well.
4. Grind to a smooth batter and then take it in another bowl or pan.
5. Add more water to get a thin flowing watery consistency.
I added 2 cups of water for 1 cup of rice,the addition of water depends on the
quality and kind of rice. so add water as required,then add salt as required and stir well.
6. Drizzle ½ tsp of oil in a cast iron pan or a non stick pan.
7. Just spread the oil all over with a spoon or small piece of cotton kitchen napkin.
8. Stir the batter and take a ladle full of batter,then pour the batter moving outwards to inside
like the way we do for rava dosa. fill in the large gaps too with some of the batter.
9. Cover with a lid and cook the neer dosa till done. don't brown it or flip it.
make a triangular fold on the tawa itself,then remove the dosa and place it in a plate.
10.serve neer dosa hot or warm with coconut chutney or veg korma.
Hits: 1779, Rating :

( 5 ) by 1 User(s).
RELATED RECIPES YOU MIGHT BE INTERESTED
POPULAR RECIPE TAGS
RELATED CATEGORIES
Southern Indian Cuisine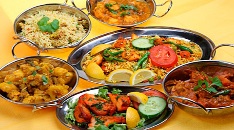 South Indian Veg Recipes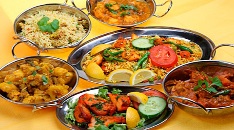 South Indian Non Veg Recipes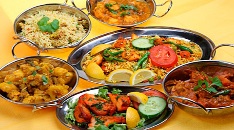 South Indian tiffin Recipes