Chicken Kundapur
Share
Chicken Kundapur
How to make Mangalore (Kundapur) Chicken Curry
Ingredients
3-4 lbs of chicken pieces (boneless and skinless), cut into 1.5" pieces
1 large onion, finely chopped
4-5 garlic cloves, finely minced
1 inch piece of ginger, finely minced
juice of 1 lemon
1 can of good quality coconut milk
salt to taste
2 tbsp oil (vegetable or canola)
freshly chopped cilantro leaves for garnish
For the MASALA: dry roast and grind to a fine powder
6-8 dried red chilies (to taste)
1 tbsp coriander seeds
½ tsp black peppercorns
1 tsp fenugreek seeds (methi)
2 tsp turmeric
METHOD
In a large mixing bowl, add the chicken pieces along with the ground masala spices, salt, lemon juice and the coconut milk. Cover and let sit in the refrigerator for at least 1 hour.
In a large deep skillet on medium high heat,
add the oil and when hot, add the onions.
Fry until slightly golden and then add the ginger and garlic.
When browned, add the chicken pieces and the marinade as well.
Reduce the heat,
cover and let simmer for 15-20 minutes on low heat. Garnish with freshly chopped cilantro leaves and
serve with warm rotis and fragrant Basmati rice.
Hits: 1797, Rating :

( 3.3 ) by 8 User(s).
RELATED RECIPES YOU MIGHT BE INTERESTED
POPULAR RECIPE TAGS
RELATED CATEGORIES
Southern Indian Cuisine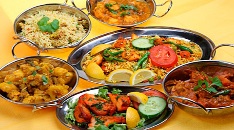 South Indian Veg Recipes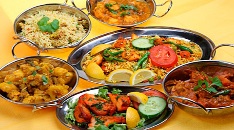 South Indian Non Veg Recipes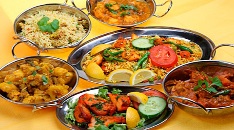 South Indian tiffin Recipes