Aloo kurma
Share
Aloo kurma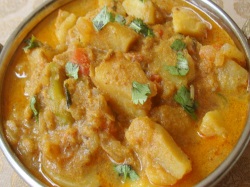 How to Make Aloo kurma
Ingredients
3 potatoes (peeled, cut into small cubes and washed)
1/2 cup frozen or fresh peas(fresh need to be boiled separately, to avoid delay while cooking)
1 small size onion (cut into thin slices)
3 Tomatoes (cut into thin slices)
1 tsp ginger garlic paste
1/2 tsp turmeric powder
1 1/2 tsp red chilli powder
1/2 tsp kuskus (gasagasalu)
1 tsp fresh coconut powder
1 tsp coriander powder( dhaniya powder)
1/4 tsp Garam masala
1/2 cup fresh coriander (washed and cut into small)
Salt as required
Oil as required
Method
Aloo kurma
1. Heat oil in a container for few seconds then add onions and fry till light brown in color.
2. Add peas,potatoes and fry for some time.Add ginger garlic paste and turmeric to it and fry for few more minutes.
3. Add tomatoes and salt and allow to cook on medium heat till potatoes become little tender.
4.Now add red chilli powder,coriander powder,garam masala powder and little water if needed and cook for some time till all spices mixed well with other ingredients.
5.Now finally add coconut powder,kuskus and fresh coriander and cook for some more time.
6.Finally you can add some lemon juice(1/2 tsp) which is optional.
Hits: 1876, Rating :

( 3.3 ) by 16 User(s).
RELATED RECIPES YOU MIGHT BE INTERESTED
POPULAR RECIPE TAGS
RELATED CATEGORIES
Southern Indian Cuisine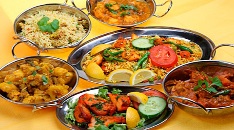 South Indian Veg Recipes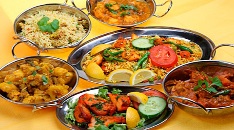 South Indian Non Veg Recipes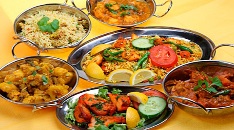 South Indian tiffin Recipes