Pav Bhaji
Share
Pav Bhaji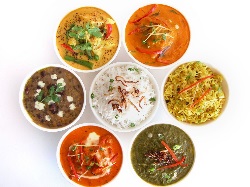 Ingredients for Pav Bhaji
* 8 pavs (squarish soft buns about 4" x 5" size)
* butter to shallow fry.
For Bhaji
* 1 capsicum chopped fine
* 2 onions chopped fine
* 2 tomatoes chopped fine
* 2 1/2 cups chopped mixed vegetables (beans, carrots, cauliflower, potota, beans, bottle gourds, etc.)
* 1/2 cup shelled peas
* 2 tbsp. butter
* 2 tsp. pavbhaji masala
* 1 1/2 tsp. chilli powder
* 1/4 tsp. turmeric powder
* 1/2 tsp. sugar
* salt to taste
* 1 cup water (in which vegetables were boiled)
* 1/2 tsp. each ginger grated, garlic crushed
* juice of 1/2 lemon.
To Garnish
* 1 tbsp. coriander chopped
* 1 onion chopped
* small pieces of lemon
Directions for making Pav Bhaji:
1. Pressure cook mixed vegetables and peas till well done. Mash them coarsely after draining.
2. Heat butter in a pan.
3. Add ginger-garlice, capsicum, onion, tomatoes. Fry for 2-3 minutes till very soft.
4. Add pavbhaji masala, chilli powder, turmeric, salt, sugar and fry further 2-3 minutes. Bring to boil.
5. Simmer till gravy is thick, stirring and mashing pieces with masala, in between.
6. Add lemon juice, stir.
7. Garnish with chopped coriander and a block of butter.
For Pavs:
1. Slit pavs horizontally leaving one edge attached. (To open like a book).
2. Apply butter (as desired) and roast open on a griddle till hot and soft with the surface crisp on both sides.
3. Serve hot with bhaji, a piece of lemon and chopped onion.
4. Enjoy your Pav Bhaji.
Note:
Pav Bhaji (also known as pao bhaji and pau bhaji) is
one of the most popular fast food.
Pav (bread) bhaji (a potato based curry) is ideal as
a filling mini-meal that combines taste with nutrition.
Hits: 545, Rating :

( 3.3 ) by 10 User(s).
RELATED RECIPES YOU MIGHT BE INTERESTED
POPULAR RECIPE TAGS
RELATED CATEGORIES
South Indian Recipes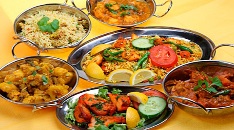 Veg Recipes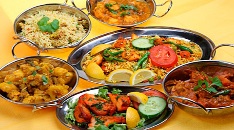 Non Veg Recipes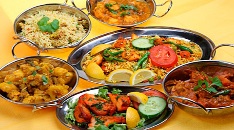 Tiffin Recipes