Adhirasam
Share
Adhirasam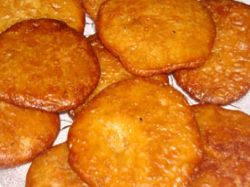 How to make Adhirasam Recipe
Ingredients
Rice - 1/2 kg
Jaggery - 300g
Method
Soak rice for half hour and spread it on a newspaper for about half an hour.
The rice will become almost dry but still slightly damp.
Powder it using a mixie.
To make jaggery syrup, dissolve 300g jaggery in v water and mix well.
Heat this until the syrup becomes thick like a paste.
To test this, drop a very small quantity of the syrup in water.
it should solidify immediately.
Mix it with the powdered rice and mix well like a dough.
Cover it in a vessel and leave it for about 8 hours.
Heat 2 cups of oil in a frying pan.
Place a ball of this flour on a plastic sheet and flatten it by hand so that it becomes a flat round shape.
deep fry this in oil, turning it until it turns golden brown evenly on both sides.
After removing from oil, remove excess oil by pressing this between two plates
Hits: 1527, Rating :

( 3.2 ) by 12 User(s).
RELATED RECIPES YOU MIGHT BE INTERESTED
POPULAR RECIPE TAGS
RELATED CATEGORIES
Sweet Recipes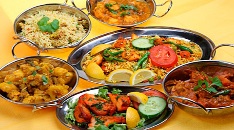 Indian Desserts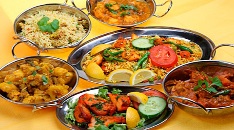 Cake Recipes