KOFTA CURRY
Share
KOFTA CURRY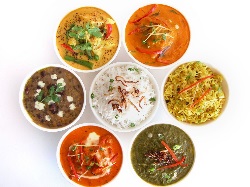 Ingredients:
1 kg mutton, boneless
2 pyaj
oil (tel) for frying
6 green chilies finely cut
2 1/2 tblsp besan roasted
salt (namak) to taste
1 egg
1 tsp red chili powder
2 inch piece ginger (adrak) finely cut
for the curry
2 tsps. coriander leaves (dhania patta)
1 tsp haldi powder
3 pyaj
1 tsp garam masala
3-5 garlic (lasan)
1 cup. tomatoes, boiled & skinned
salt (namak) to taste
1 1/2" ginger (adrak)
1 tsp red chili powder
How to make kofta curry:
* To make the koftas, grind the meat with all the other ingredients.
* Make small balls with this mixture.
* Deep fry these balls till golden brown and keep aside.
* For the curry, stir fry the onions, garlic and ginger till golden brown.
* Mix in the rest of the curry ingredients with enough water to make a gravy.
* Bring it to a boil, mix in the fried koftas and simmer (boil slowly at low temperature) for 45 mins.
* Decorate with cut coriander leaves before serving.
* Serve hot
Hits: 1227, Rating :

( 3.1 ) by 9 User(s).
RELATED RECIPES YOU MIGHT BE INTERESTED
POPULAR RECIPE TAGS