Onion Bhaji
Share
Onion Bhaji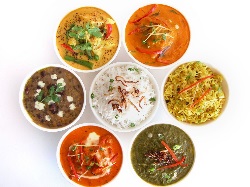 Onion Bhaji
Ingredients
Large onions 2
Plain Flour or Besan 4 tbsp
Milk 2 tbsp
water to mix
eggs 2
paprika 1 tsp
dry coriander 1 tsp
dry cumin 1 tsp
turmeric 1 tsp
garlic powder 1 tsp
oil for deep frying and shallow frying
Salt as per taste
Method:
* Chop onions into fine strips then fry gently until
slightly softened ,then leave to cool.
* Mix flour, seasonings ,milk and eggs together to
form a smooth paste ,add water to make a slightly runny consistency.
* Add the onion and mix thoroughly.
* Heat the oil in pan for deep frying ,when
medium heat drop spoonfulls of the mixture in and
fry until deep golden and crispy.
Tips Serve hot with homemade garlic dip.
Hits: 1220, Rating :

( 3.4 ) by 7 User(s).
RELATED RECIPES YOU MIGHT BE INTERESTED
POPULAR RECIPE TAGS