Chicken Mushroom Soup
Share
Chicken Mushroom Soup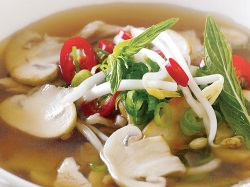 Ingredients
6 cups chicken stock
100 gm egg noodles
1 cup sliced mushrooms
½ cup cooked shredded chicken
½ cup shredded cabbage
Salt to taste
Method
1. Heat stock; put in all the above ingredients and cook for 10 minutes.
2. Serve hot.
chicken stock
1. Start with 1 kg of chicken necks, wings, backs, bones… any parts will do.
Put them in a large, heavy pot.
2. Next, cut up the vegetables to add to the stock.
A variety of veggies, such as onions, carrots, celery, herbs like basil or coriander, kali mirch and salt can be used for making a rich, fragrant stock.
3. Cover the chicken and vegetables with cold water, put the pot on the stove,
and turn the heat to high. Just as the pot comes to a boil,
turn the heat down to a very low simmer. You're going to let the stock simmer for two hours total.
4. When the stock has finished simmering, use tongs or a large slotted spoon
to remove the chicken and vegetable pieces, then carefully strain the stock to remove the remaining solids.
5. Let the stock cool, then refrigerate it overnight.
Any remaining fat will rise to the top. You can remove this with a large spoon.
Hits: 1886, Rating :

( 3.3 ) by 18 User(s).
RELATED RECIPES YOU MIGHT BE INTERESTED
POPULAR RECIPE TAGS
RELATED CATEGORIES
Soup Recipes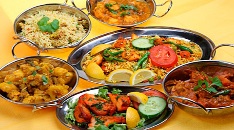 Vegetarian Soups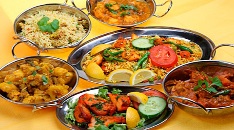 Non Vegetarian Soups