Mushroom and Checken Soup
Share
Mushroom and Checken Soup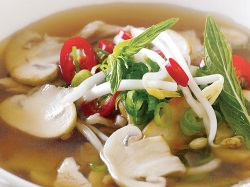 Ingredients of this recipe:
2 cups Mushrooms
2 cups Chicken or veg stock
3 nos. Egg yolks
1 cup Milk
1/8 tsp Black pepper
4 tbsps Butter or margarine
1/4 tsp Salt
Method to ma
ke this recipe : mushroom soup:
* Melt the butter in a pan, add the mushrooms and cook them for 5 minutes stirring constantly.
* Add the chicken or vegetable stock, raise the heat and bring to a boil.
* Remove the mushroom mixture from the heat.
* Beat 1/2 cup of hot broth with the egg yolks until the mixture becomes frothy.
* Gradually pour this mixture into the mushroom mixture, stirring constantly to prevent the mixture from curdling.
* Return the pan to the heat and add the milk, salt and pepper.
* Reheat uncovered, stirring constantly, but do not let the soup boil.
* Serve the mushroom soup hot.
Hits: 1481, Rating :

( 3.1 ) by 14 User(s).
RELATED RECIPES YOU MIGHT BE INTERESTED
POPULAR RECIPE TAGS
RELATED CATEGORIES
Soup Recipes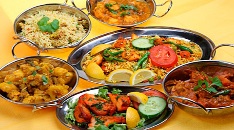 Vegetarian Soups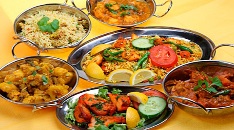 Non Vegetarian Soups