HOT AND SOUR SOUP RECIPE
Share
HOT AND SOUR SOUP RECIPE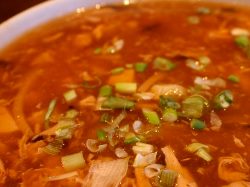 How to Make Hot and Sour Soup Recipe
Ingredients of this recipe
2tbsp. chili sauce or to taste
11/2tbsp. Corn flour / corn starch
1 tbsp Soya sauce
2 tbsp vinegar
2tbsp. Capsicum / green bell pepper (chopped)
2tbsp spring onions (chopped)
2 tbsp tomato sauce
2tbsp. carrots (chopped)
1/4th cup chopped cabbage
A small block of Paneer / organic tofu (thinly sliced), optional
1tsp. Black Pepper powder or to taste
1/2 tsp sugar
A pinch Ajinomoto
Salt to taste
4 cups water
Method
Make Hot and Sour Soup
Mix 4 cups of water, Chili sauce, Soya sauce, vinegar, sugar, salt, pepper powder and ajinomoto and bring to boil.
Now add all the chopped vegetables except paneer . Cook for a minute on a medium heat.
Dissolve corn starch in 1/2 cup water and add to the soup stirring constantly till it becomes thick.
Cook for a minute, add paneer slices. it is ready to serve.
Hot and sour soup should be prepared just before consuming and should be served fresh, else it will lose the taste.
Hits: 580, Rating :

( 3.1 ) by 17 User(s).
RELATED RECIPES YOU MIGHT BE INTERESTED
POPULAR RECIPE TAGS
RELATED CATEGORIES
Soup Recipes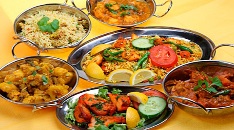 Vegetarian Soups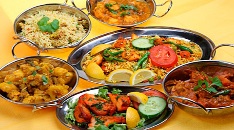 Non Vegetarian Soups