Tandoori Naan
Share
Tandoori Naan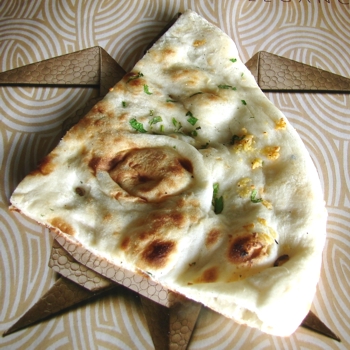 Plain Naan, Butter Naan, Garlic naan
Ingredients
All Purpose flour(maida) - 2 cups
Active dry yeast - 1 tsp
Oil - 2 tblsp, Yogurt/ Milk - 1/4 cup
Water(lukewarm) - 1/2- 3/4 cup (as needed)
Butter/ Ghee - to spread on naan
Salt - 1 tsp(or to taste), Sugar - 1 tsp
Method
1. Dissolve active dry yeast and sugar in lukewarm water and set aside until it becomes frothy(app. 10 min).
2. Add some salt, oil and yogurt with the maida and mix well.
3. Next add the water/yeast mixture little by little to the flour and knead it. Knead until you get a very soft dough.
(The dough should be little sticky which ensures very soft naan).
4. Cover the dough with a moist paper towel and keep in a warm place for atleast 15-20 minutes.
5. Preheat the oven to the highest temperature or put it in broil mode.
6. If you have a pizza stone preheat the stone also for half an hour. If not you can use a normal baking tray.
7. Divide the dough into lemon size balls. Roll it out into oval shape (the typical naan shape) using rolling pin or with hand.
8. Place the rolled out naan on the pizza stone/ baking tray and cook it for 2-3 minutes.
(If the pizza stone is preheated, you can remove it in 2-3 minutes. If not flip the naan and cook for another 1 min.)
9. Remove the naan immedietely. If you keep it longer, the naan will become dry and hard.
10. Serve naan with palak paneer, malai kofta, paneer gravy or any non veg gravies.
Fot butter naan
After removing the naan, brush some butter/ghee on top.
For Garlic naan
Sprinkle some minced garlic on top of the rolled out dough before cooking.
Hits: 2899, Rating :

( 5 ) by 1 User(s).
RELATED RECIPES YOU MIGHT BE INTERESTED
POPULAR RECIPE TAGS