Chilli Chicken
Share
Chilli Chicken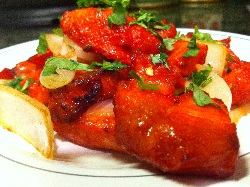 Chilli Chicken Preparation
Ingredients:
500 gms boneless chicken ,
200 gms onion (grated),
10 gms ginger (grated),
5 big green chillies (grated),
1 cup oil, 1 tea spoon Soya sauce,
2 tea spoon Tomato sauce,
1 table spoon chilli sauce ,
1 small capsicum,Little china salt,
1 tea spoon vinegar,
Salt for taste, 2 Eggs, 1/2 cup corn flour, Green coriander
Method
Blend the chicken small pieces with salt, china salt, 1 teaspoon vinegar and 1 tea spoon Soya sauce.
Leave it to marinate for an hour.
Mix the egg in a bowl with corn flour and put in little water and salt to it.
Flame up the oil in a frying pan.
Deep fry the chicken in it.
Give the Green chillies in the heated oil for chilli flavour and fry onions,
capsicum and gingers until it becomes reddish brown and a good smell comes out.
Then pour chilli sauce and of tomato sauce to it.
Then mix it with the fried chicken and pour some water to boil up.
Add salt according to taste and leave it for 5 minutes in a lighter flame.
Garnish with green chilli and sprinkle grated coriander all over it.
Now the delicious chilli chicken is prepared and ready to serve with fried rice or Noodles.
Hits: 2071, Rating :

( 3.4 ) by 9 User(s).
RELATED RECIPES YOU MIGHT BE INTERESTED
POPULAR RECIPE TAGS