Bengali Macher Jhol - Fish curry
Share
Bengali Macher Jhol - Fish curry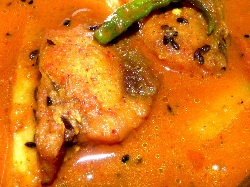 Ingredients
• 4 Fish Fillets (medium-sized)
• 1 Red Onion (chopped)
• 2 tbsp Mustard Oil
• 1 tsp Turmeric Powder
• 1 tsp Cumin Powder
• 1 ¼ tsp Red Chilli Powder
• 2 tbsp Tomato Puree
• 2 cup Water
• 1 ½ tsp Salt
• 4 Green Chillis (halved)
• 1 inch Ginger (peeled, chopped)
• 1 ½ tsp Black Onion Seeds (Kalonji)
• 1 tsp Coriander Powder (Dhania)
• 1 tbsp Fresh Coriander Leaves (chopped)
Method
How to make Macher Jhol Non Veg Recipe:
• Wash the fish fillets. Make them dry and then coat them with salt and turmeric powder. Set them aside.
• Now heat the oil in a wide, heavy bottomed non-stick pan. Add black onion seeds to the oil, and fry until you smell a nice aroma.
• Add the fish fillets, one at a time, frying each side for 5 minutes or until they turn golden brown. Keep them aside.
• Now add chopped onion and ginger in the same oil, and fry for 10 minutes.
• Add turmeric, salt, chilli powder, cumin powder and coriander powder to the above. Stir for 5 minutes.
• Now add tomato puree and water; stir well. Cover the pan and bring the above to boil.
• Add the fried fish fillets and fresh green chillis to the above, and turn down the flame and cook them for 25 minutes.
• Macher Jhol is ready to serve. Garnish it with fresh coriander leaves.
Hits: 1802, Rating :

( 3 ) by 15 User(s).
RELATED RECIPES YOU MIGHT BE INTERESTED
POPULAR RECIPE TAGS