Fish Cutlet
Share
Fish Cutlet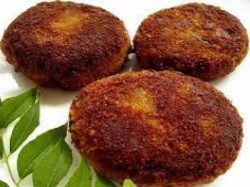 Ingredients:
• 1/2 kg Fish
• 1 Egg
• 1 Bread slice
• 1 tsp Garlic paste
• 1 tsp Ginger paste
• 1 Cup Bread Crumbs
• 1-2 Green Chillies
• 1 tbsp Corn Flour
• 1/2 tsp Garam Masala
• 1/2 tsp Turmeric Powder
• 1 Bunch of Coriander Leaves
• Salt to taste
• Oil for frying
How to make Fish Cutlet:
• Smear and rub fish with turmeric powder and salt. Wash it after 5 minutes.
• Keep the fish over a pan of hot water for steaming. Remove the bones and gently mash it using hands. Soak the bread slices in water and squeeze.
• Add red chilli powder, garam masala powder, ginger-garlic paste, corn flour, coriander leaves, green chillies, bread slice and salt.
• Mix all the above ingredients and make walnut sized balls and flatten the ball slightly.
• Take the beaten egg. Dip the cutlet pieces in egg and roll in breadcrumbs.
• Heat the oil slightly in a wok. Fry till the pieces turn brown.
• Fish cutlet is ready. Serve it with potato fingers and chutney.
Hits: 1864, Rating :

( 3 ) by 15 User(s).
RELATED RECIPES YOU MIGHT BE INTERESTED
POPULAR RECIPE TAGS