Bengali Fish Curry, Maacher Kalia
Share
Bengali Fish Curry, Maacher Kalia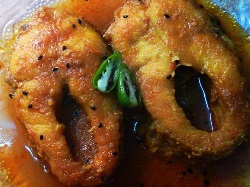 Kaalia is a very popular Bengali style of fish curry with thick gravy
Ingredients
• Spice mix:
• 2 tsp Coriander Seeds
• 1 tsp Cumin Seeds
• 2 Dried Hot Red Chiles
• 2 Whole Cloves
• 2 Green Cardamom Pods
• 1-inch Cinnamon Stick
Fish:
• 1 kg Fish (cut into 1-1/2-inch pieces)
• 3/4 tsp Ground Turmeric
• 1/2 tsp Salt
• 2 tbsp Canola Oil
Sauce:
• 3/4 cup Onion (finely chopped)
• 1 tsp Fresh Ginger (grated and peeled)
• 1 Garlic Clove (minced)
• 1 Bay Leaf
• 1/4 cup Water
• 1 tsp Salt
• 1/2 tsp Sugar
• 1 cup Plain Whole Milk Yogurt
Method
How to make Bengali Fish Curry, Non Veg Recipe
•Put all the ingredients of the spice mix in a grinder.
•Process until finely ground.
•Now rub turmeric powder and 1/2 teaspoon salt all over the fish pieces in a large bowl and toss well.
•Heat 1 tablespoon oil in a large nonstick skillet over medium-high heat.
•Add half of the fish pieces in it and cook until fish is lightly browned.
•Remove the pieces from the pan.
•Repeat the same with remaining fish pieces.
•Now to prepare sauce, add finely chopped onions to the pan.
•Fry until tender. Add ginger, garlic, and bay leaf; fry for 2 minutes.
•Add ground spice mix; cook 2 minutes.
•Add in water, 1 teaspoon salt, and sugar. Stir properly.
•Remove pan from heat and gradually stir in yogurt.
•Cook over low heat for 5 minutes, stirring constantly.
•Return fish pieces and accumulated juices to the pan.
•Cook over low heat for 5 minutes more.
•Discard bay leaf and serve with hot rice.
Hits: 1623, Rating :

( 3.1 ) by 35 User(s).
RELATED RECIPES YOU MIGHT BE INTERESTED
POPULAR RECIPE TAGS