Bengali Kheer (Rice Pudding)
Share
Bengali Kheer (Rice Pudding)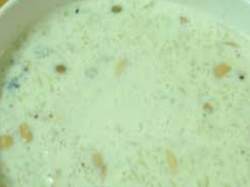 Bengali Kheer (Rice Pudding)
Ingredients
6 cups soy milk
3/4 cup rice
1/2 cup raisins
1/4 teaspoon cardamom powder
1/2 bay leaf
1/2 cup turbinado (or white) sugar
Method
In large saucepan combine milk, rice, and bay leaf.
Cook on high heat for 15 minutes, stirring very frequently.
Bring to a rolling boil and then lower heat.
Simmer for 40 more minutes until it thickens.
Remove bay leaf and add sugar, raisins, and cardamom.
Refrigerate until cold.
The kheer will thicken as it cools. Serves 4.
Hits: 1466, Rating :

( 3 ) by 23 User(s).
Tags
Bengali Sweets, Rice kheer, Bengali kheer
RELATED RECIPES YOU MIGHT BE INTERESTED
POPULAR RECIPE TAGS