Haak - Kashmiri Spinach
Share
Haak - Kashmiri Spinach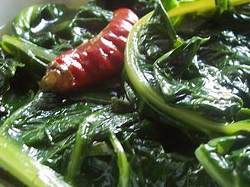 Ingredients
* 500 gm: Spinach
* 2 spring: Sliced spring onions
* 2tbs: Mustard oil
* 1 tsp: Yellow mustard seeds
* ¼ tsp: Kashmiri garam masala
Method
How to prepare haak - kashmiri spinach
Remove the tough stalks from the spinach.
Heat mustard oil in a pan.
Season mustard seeds and add garam masala, spring onion and stir in the spinach until wilted.
Cook spinach over a medium heat for 10-15 minutes until most of the water has evaporated.
Do not cover the pan until cooking.
Serve hot.
Hits: 1643, Rating :

( 3.1 ) by 30 User(s).
RELATED RECIPES YOU MIGHT BE INTERESTED
POPULAR RECIPE TAGS