Bengali Sabzi
Share
Bengali Sabzi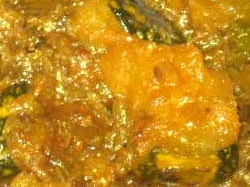 In Indian cuisine, the most common method of cooking vegetables is to give tadka, which means cooking vegetables in a spice-infused oil. In Bengal, tadka is usually of mustard oil and mustard seeds and then adding green chilies at the end of the cooking, which give a very strong flavor.
Serves 6
4 tablespoons mustard oil or extra virgin olive oil
1 1/2 teaspoons mustard seeds
1 1/2 teaspoons fennel seeds
A 1-inch cinnamon stick
1 tablespoon minced garlic
2 pounds fresh broccoli, trimmed and cut into
spears
4 tablespoons vegetable broth
2 green chilies, cut lengthwise
salt to taste
A 2-inch fresh ginger, cut into juliennes
1. Heat the oil in a large skillet over medium heat. Add the mustard seeds and cook until they sizzle—about 1 minute. Add the fennel seeds, cinnamon
stick, and garlic. Cook, stirring occasionally until very fragrant— about 2 minutes.
2. Add the broccoli and stir until it's covered with the infused oil. Add the salt and vegetable broth. Stir and cover for 2 minutes.
3. Add the chilies and stir. Continue until the broccoli is cooked and dry,
stirring occasionally.
4. Transfer to a serving dish and garnish with ginger juliennes.
Hits: 1151, Rating :

( 3 ) by 19 User(s).
RELATED RECIPES YOU MIGHT BE INTERESTED
POPULAR RECIPE TAGS