Aloo Posto
Share
Aloo Posto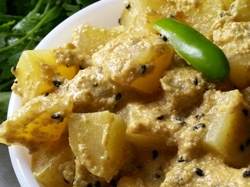 Ingredients
• 5 - 6 medium-sized Potatoes
• 2 Green Chillies
• 2 tbsp Mustard Oil
• 1 tsp Pure Ghee
• 1/2 tsp Onion Seeds (kalonji)
• 4 tbsp Poppy Seeds (khuskhus)
• Salt to taste
Method
How to make Aloo Posto
• Cut the potatoes into one-inch pieces and soak them in water.
• Soak poppy seeds in one cup warm water for 15-20 minutes.
• Now drain water and grind poppy seeds to make fine paste.
• Heat up mustard oil in a pot till it reaches smoking point.
• Let the mustard oil cool and then, heat it again on medium heat.
• Mix in kalonji to the heated oil and fry it briefly.
• Mix the chopped potato pieces and stir fry on medium heat for around 5 minutes.
• Mix in the poppy seeds paste, and stir. Put half cup of water and stir fry on low heat till the potatoes are almost cooked. Now, mix in salt and slit green chillies.
• Continue to stir fry for another few minutes.
• Make sure that potatoes are completely cooked.
• In the end, stir in desi ghee and serve hot.
Hits: 1181, Rating :

( 3 ) by 17 User(s).
RELATED RECIPES YOU MIGHT BE INTERESTED
POPULAR RECIPE TAGS