Bengali Avocado Paratha
Share
Bengali Avocado Paratha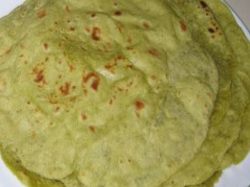 How to Make Avocado Paratha Recipe
Ingredients
ripe avacado 1
wheat flour 2 cup
lemon juice 1 teaspoon
salt 1 teaspoon
garam masala powder 1 teaspoon
red chili powder 1/2 teaspoon
chat masala powder 1/2 teaspoon
water 3/4 cup
olive or avacado oil 1.5 tablespoon
Method
Avocado Paratha Recipe
Cut the avacado into half, remove the seed, and place the flesh in a bowl.
Mash the avacado into a smooth paste.
Add lemon juice. This helps to prevent the avacado from browning.
Also add in the red chili powder, salt, chaat masala and garam masala powder.
Next add 1 3/4 cup of wheat flour along with 3/4 cup of water. Knead the dough.
Once the dough is formed, add in 1.5 tablespoons of avacado oil or add olive oil, Knead again one more time. Set the dough aside.
Heat a non stick pan while you are rolling the parathas. Take a small amount of dough and roll into a ball.
The remaining 1/4 cup of flour or less you will need while rolling the parathas.
Dip the dough ball into the dry flour.
Roll into a circular shape using a rolling pin.
Place the rolled paratha on the tawa to fry.
Turn and cook on the other side as well.
Now Bengali Avacado Paratha to Serve.
Hits: 1045, Rating :

( 5 ) by 1 User(s).
RELATED RECIPES YOU MIGHT BE INTERESTED
POPULAR RECIPE TAGS