RAJASTHANI GHEVAR
Share
RAJASTHANI GHEVAR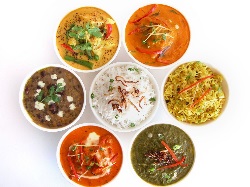 Ingredients
For syrup
1 cup water
2 cup sugar
For ghevar
1/2 cup ghee (solidified)
2 cup maida
2 cup water
1/2 cup milk
A pinch saffron
1/4 teaspoon yellow food color
ghee for frying
Method
Rajasthani Ghevar
For syrup:
Heat sugar and water together in a pan. Boil it till 1 thread consistency.
To check single thread consistency: put a drop of sugar syrup on your thumb and touch drop with forefinger. When you pull both the fingers apart, a single thread of syrup should form without breaking
For ghevar:
In a large round bowl, take solidified ghee and churn/whisk it till it turns white.
Soak saffron in 1 tablespoon of milk. Add maida, then water and milk to the mixture. Adding saffron and yellow color to mixture will make it light yellow in color. Avoid any lump in the mixture.
Heat ghee in a deep pan. Slowly pour the above mixture into the center of pan. The mixture will sink down first and then start collecting on the side of pan.
Once all the mixture is poured into the pan, lower down the heat to medium high. Let it cook till light brown.
Take it out and keep it on paper towel, so that excess ghee will drain out.
Dip it in sugar syrup and remove it .Garnish it with dry fruits and cardamom powder.
Rajasthani Ghevar is ready to serve.
Hits: 1575, Rating :

( 2.9 ) by 21 User(s).
RELATED RECIPES YOU MIGHT BE INTERESTED
POPULAR RECIPE TAGS